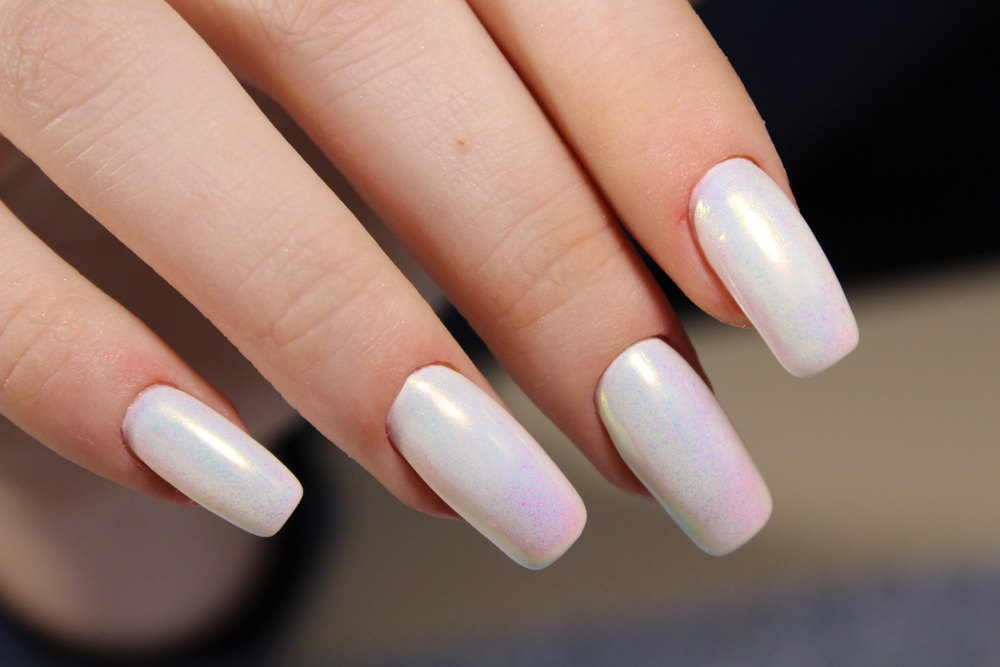 Shimmering with an underwater luminescence, pearls have a magical otherworld charm about them. Formed when a single grain of sand gets into an oyster's shell, irritates the soft mantle inside and causes the mollusk to build up protective layers of hard calcium carbonate around the grain. Wild pearls are increasingly rare, but oyster farms artificially induce pearls by inserting sand into the shellfish. Subsequently artificial, or farmed, pearls are worth a great deal less than ones that occur naturally. All pearls, however, possess the same variably hued softly glistening appearance.
When it comes to nail polishes, pearl colors are beautifully different. Offering hints and gleams of pink, purple, or blue, all with that pearlescent shimmer, they are subtle, but readily cross the line into glamorously eye-catching, too. Complementing all skin tones, they lend a luxurious charm to any nails.
Here are my top three pearl polishes.
What Makes it Great
This set of 5 pearl polishes from Nicole Diary is simply stunning. Designed as a stamping polish originally, they can be used for nail art and look awesome as a straight manicure. With a variety of subtle tones, including pink, gold and pale green, over a black base they transform into glitzy, glittered nails, but over white, or without a base color, they glisten and shimmer, offering a sheen that lasts for nearly three weeks.
Where it Could be Improved
I had to apply two coats to achieve the look I wanted.
The Final Verdict
If you can't decide which pearlescent color's your favorite, this set of five can help. Mix and match or pick one stunning shade for the full manicure - the choice is yours.
What Makes it Great
With their usual flair and style, Essie have created a simply beautiful white pearl polish. Pearly White is just that – crisp, clean and shimmering with dew drop twinkles, that, worn over a nude nail bed, brings a light dusting of sparkles, or with a base color, lends an air of cuteness mixed with luxury. Decently durable, too, mine lasted two weeks without a chip.
Where it Could be Improved
In order to mix the shimmer throughout the polish, a gentle palm roll or two is a good idea.
The Final Verdict
Deceptively innocent, but gloriously cute, Pearly White should be in everyone's nail kit.
What Makes it Great
This polish gives a beautifully pearlescent pink shimmer to your nails. With subtle layers of a pale dusky rose and plenty of sparkles, Sheer Nirvana is decadently charming, and decidedly girlie. Luckily for me, this prettily pink polish lasted for two perfect weeks before I spotted a tiny chip.
Where it Could be Improved
There was quite a strong odor upon opening the bottle, however, nothing that an open window couldn't cure.
The Final Verdict
Perfect for day or night time wear, this pretty pink pearl polish is simply beautiful.