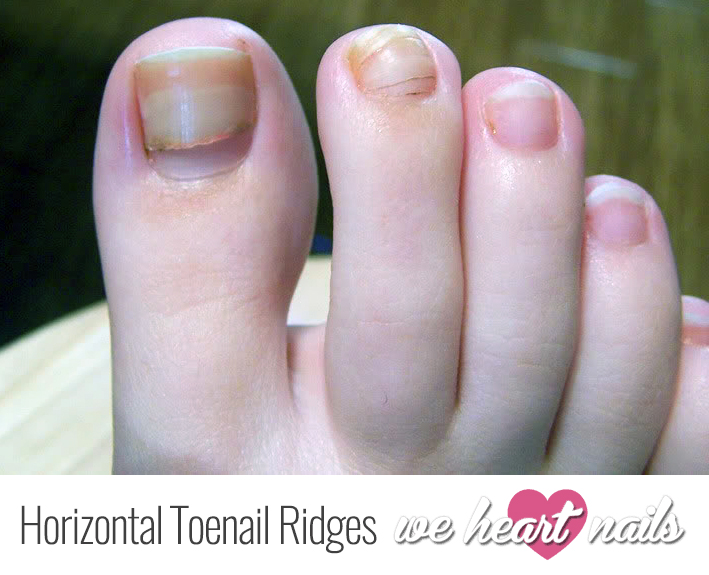 Horizontal ridges are relatively common on the fingernails, but did you know you can also get these on your toenails? These ridges tend to look worse, however, as the toenails tend to be thicker. Horizontal ridges, also referred to as Beau's lines, can be quite pronounced, and in some cases, there may be more than one ridge on the toenail.
What do Ridges on Toenails Mean?
There are several reasons why horizontal ridges and white spots on your toenails might appear. They could be caused by trauma, which is often due to overly long toenails. It could also be the result of an injury, such as a running injury or dropping something on the nail. If your job requires a lot of standing or walking, this could end up causing ridges, too. They could also be the result of wearing too much nail polish or in more serious cases, the cause could also be an underlying illness, such as diabetes, coronary thrombosis, myocarditis, and many others. If you are not sure, go and see your doctor.
Are Ridges in Nails Common?
Ridges in nails and toenails are more common than you might think, although understandably, they aren't something we really talk about! The toenails suffer a great deal of wear and tear throughout the day, especially if we take part in sports, or are on our feet a lot, so it is understandable that they can suffer from trauma. In most cases, Beau's lines, particularly on the toenails are nothing to worry about, but if you have any cause for concern, you should speak to your doctor.
What is a Good Home Remedy For Ridges On Toenails?
The remedy for ridges on toenails will depend on the root cause. If it's down to an injury, the may just clear up on their own. It is important to take care of your toenails and make sure they are moisturized. When the toenails become dry, they become brittle and can easily sustain damage resulting in ridges. Keeping them moisturized makes them healthier and less prone to any type of damage. Nourishing your toenails from within by taking hair and nail vitamins can also help with making the ridges disappear.
You may also want to use a buffer to rub down the ridges on your toenails. If the ridges are caused by a more serious issue, your doctor will be able to recommend an appropriate treatment to reduce the ridges and improve the appearance and health of your nails.
Best Products For Ridges On Toenails
Although getting rid of horizontal ridges on your nails may require medical attention in cases of an underlying medical condition, there are a few easy tips and tricks that you can do at home if your ridges are just an esthetic concern. Here are some that I have tried and tested:
Originally designed to protect missing or ingrown toenails, these cheap but useful toe protectors are also ideal for safeguarding your sensitive nails against everyday abrasions. I also love that they come in nude colors, which makes them blend seamlessly to your skin tone. No-one will notice these on your feet.
Natural oil is a miracle product for skin, hair and nails. Your toenail health depends on a multitude of factors and one of the easiest entry points for harmful bacteria is the sensitive cuticle area. This amazing oil from BeeNaturals will keep the skin around your toenail healthy and strong, helping to prevent the development of horizontal ridges.
Finally, the secret to keeping your toenails strong is using a high quality basecoat. Even if you don't regularly get pedicures, a basecoat is a good idea for preventing your nails from chipping and giving them a healthy appearance. I personally recommend this dermatologist-approved basecoat by Zeva for it's beneficial features and longevity.
Regardless of what products you use on your toenails, remember to give them the same care that you would your fingernails. If your toenails are looking damaged, flaky, or discolored, in most cases it means they're not receiving the proper care they need. Introduce a regular toenail care routine and make sure to keep your toenails clean and hydrated. And if you spot anything that doesn't look right, it's always best to get it checked out by a professional.
---
You may also like: